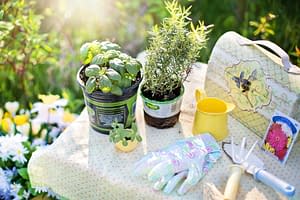 Gardening is a great therapy for anyone. I know I'm a novice gardener myself growing sweetcorn, spinach, peas, green beans, lettuce. I enjoy it and find it relaxes me, it makes sure I get enough vitamin D. We only need to be outside for 30 minutes to top up our vitamin D.
Are you making the most of your outdoor space?
Even a small space outside can become a place where residents can go enjoy gardening tasks.  It about making the space safe and have enough tasks for the residents to do or enjoy themselves.
You can make use of raised beds if that's too much expense use large pots which are raised.  Planting items such as mixed lettuce and spinach we grow easily can be rewarding and the produce can be used in dishes.
Why not speak to your garden centre they may be happy to donate equipment  and plants, most companies have a mission statement which included helping the local community.
Gardening has been found to be beneficial for those with mild cognitive impairment and dementia.
If you do not have an appropriate outdoor space you could try to convert a space indoors which is not being utilised for anything.   This is exactly what Wynford Locks Care Home in Glasgow did they converted a little used space into an indoor garden. Some of the things they used are; astro turf, sky blue ceiling with clouds, garden furniture, and stoneware wall paper and indoor plants.  Add some outdoor music and you have a enjoyable space for both your residents and staff to enjoy.
Kim Groves has written that ; " The presence of plants, flowers, water and wildlife has a healing effect, even when viewed from indoors. Gardens can also provide peace and quiet which can help to ease stress, anxiety, agitation, aggressive behaviour and pain.
'People can be diverted from gates and exits by having paths that lead them around the garden instead. A series of cleverly placed planters or hiding the exit behind trees and shrubs can also help.'"
She also says it's important to think about the experience your creating so think about; colour, scent and whether your creating a stimulating or calming area
Here are links for further information and to help you in a practical way.
http://www.dignityincare.org.uk/Dignity_in_Care_news/News_item/?cid=7903
http://www.thrive.org.uk/products/publications/evidence-and-research-and-the-theory-of-social-and-therapeutic-horticulture.aspx
http://www.thrive.org.uk/products/training.aspx
http://www.thrive.org.uk/Files/Documents/Raised%20beds.pdf
http://www.thrive.org.uk/Files/Documents/How%20to%20build%20raised%20beds.pdf
http://www.sensorytrust.org.uk/information/factsheets/sensory-garden-1.html
http://www.thrive.org.uk/Files/Documents/8%20-%20Dementia%202012.pdf